Flight TrainingSport Pilot's License
This newest pilot's license, introduced only a few years ago, allows you to become a Sport Pilot in approximately two-thirds of the time and cost of a Private Pilot license. It also qualifies you to fly UAVs with most companies. Our Evektor SportStar Light Sport Airplanes (LSA) are ready and willing to help you become a Sport Pilot.
Currently only available at Reid-Hillview (San Jose location)
The Sport Pilot License entitles you to fly 2-seat Light Sport Airplanes (LSA) as long as the airplane is under 1320 pounds maximum weight and less than 120 knots maximum airspeed. Our Evektor SportStar qualifies for Sport Pilot flight training. There are some limitations on where, what and how many passengers you can fly, but you do not need a medical certificate to achieve this license.
Prices and rates are subject to change without notice. All training and rentals are subject to the terms and conditions in the Renter's Agreement. Minimum 24 hours' notice required for cancellation or you may be charged for the rental time.

C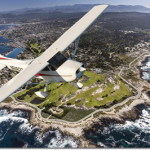 ome fly with us in the beautiful San Francisco and Monterey Bay Areas of California. Our flight school facilities are located at Reid Hillview airport in San Jose (KRHV), at the south end of San Francisco Bay, Salinas Municipal Airport (KSNS), and Monterey Regional Airport (KMRY). We offer ground and flight training for sport pilot, private pilot, instrument rating, commercial pilot, multi-engine, ATP, CFI, tailwheel, aerobatics, and mountain flying.
Ready to schedule a flight? Have a question? Give us a call!
San Jose (408) 320-9614
Monterey/Salinas (831) 373-8320
You can also reach us via email with our Contact Form