Always Dreamed of Flying?

Experience the freedom

Beginners to Advanced

Give the Gift of Flight

Introductory Flight Lessons and Tours

Stunning Views

Flights departing daily

Train with the Best

Award-winning instructors

Discover What Aviation has to Offer

Fly a variety of aircraft

Historic Taildraggers

Learn to fly stick and rudder

Sport or Private Pilot

Enjoy earning your license

Coastal Flying

Get actual IFR during training

Advanced Training

Commercial, Instructor, & ATP

Multi-Engine Training

Earn Private, Commercial or ATP AMEL

Transition to Tailwheel

With California's fun flight school

Upset Recovery, Spin Training & Aerobatics

Become a better pilot

Mountain Flying Courses

Why drive to Tahoe or Mammoth?

Fly with Confidence

Expand your horizons

Fly in California

The beautiful weather advantage
Excellence in flight training since 1960
63 years and thousands of successful pilots!
AeroDynamic Aviation® began flight training in San Jose, California, in 1960. We offer flight training to all levels of pilots in the San Francisco Bay Area. Our flight school expanded in recent years to include locations in Salinas and Monterey.  Our team of knowledgeable instructors create a comfortable, friendly environment for the people they train. With experience in many different aircraft and teaching purely for their love of aviation, our instructors will guide you through any flight experience you ask for. From airline pilots, corporate pilots, aerobatic pilots, Gold Seal and Master CFIs, AeroDynamic's flight instructors are the best in the industry. Their exceptional service earned us the title of AOPA 2018 & 2017 Distinguished Flight School, Cloud 9 Living's Legendary Experience Provider Awards and Best of Groupon Awards. In 2021 we were featured on World's Greatest TV as their choice for World's Best Flight School!
Spring Sale – $175 Two-hour Citabria Ground and Flight Lesson
San Jose location only. We are offering an amazing deal on our Citabria introductory flight gift certificates! For a limited time we are selling our Citabria Introductory Flight gift certificate for only $175. This includes one hour of ground instruction plus one hour of flight instruction. You may purchase through the PayPal link here or by calling our office. Limited to 1 per person, may purchase additional certificates as a gift for others, and subject to all other gift certificate fine print. There may be possible weight restrictions for passengers above 220 pounds.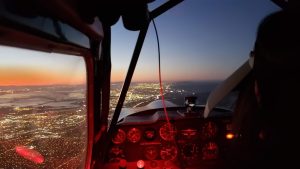 Upcoming Events
June 3, 2023: Private/Sport Pilot Ground School begins. Join us in person at our San Jose location or online every Saturday morning from 9 am to 12 pm. Classes will be taught by stage check instructor Graham Harbman. Register by calling our Reid-Hillview office (408) 320-9614 or email office@aerodynamicaviation.biz. Click here for full details.
June 2 and 3: The International Aerobatic Club (IAC) is hosting it's regional aerobatic contest at Tracy, CA. Our Chief Instructor Jen Watson, Assistant Chief Instructor Lynzie Hudson, and members of the AeroDynamic pilot family will be competing at Primary and Sportsman levels. Come show your support of this amazing flying event. Bring the kiddos to see aircraft of all shapes and sizes tumble through the air!
June 23 through 27: Group fly-out to Johnson Creek, Idaho. Join us in our planes or yours, with or without an instructor as needed, for this adventurous trip to fly the backcountry of Idaho. We will depart early Friday morning, stopping for lunch and fuel along the way, then regroup at McCall Airport (KMYL) before heading into Johnson Creek (3U2) to set up camp. Sat, Sun & Mon will be spent exploring the Sawtooth and Salmon River Mountains, including landings and meals at the various strips. A mandatory preflight planning meeting will be set up soon with a link here. We recommend an airplane suitable for high density altitude operations, capable of landing on grass and dirt strips, and a pilot with high-altitude operations training or bringing a CFI along who can teach mountain flying. We have a sign-up sheet available through our office. Please call or email to be added to the list for further communication.
Sept 14 through 17: After 60 years of Air Racing, this will be the last year the Reno Air Races will be held at Reno-Stead Airport. Tickets will sell out fast, so don't delay. AeroDyanmic's owners Josh and Jen will be racing in the Formula One class. Be sure to

buy pit passes

and come say hello to our team!
Redbird simulator at Reid-Hillview! Click here for details.
New AeroDynamic summer swag available for sale including hoodies, hats, beanies, patches, t-shirts, tank tops, and coozies. Stop by our San Jose or Monterey office to purchase.
Follow us on Facebook, Instagram, & Twitter for upcoming events, recent accomplishments, and more.
In Recent News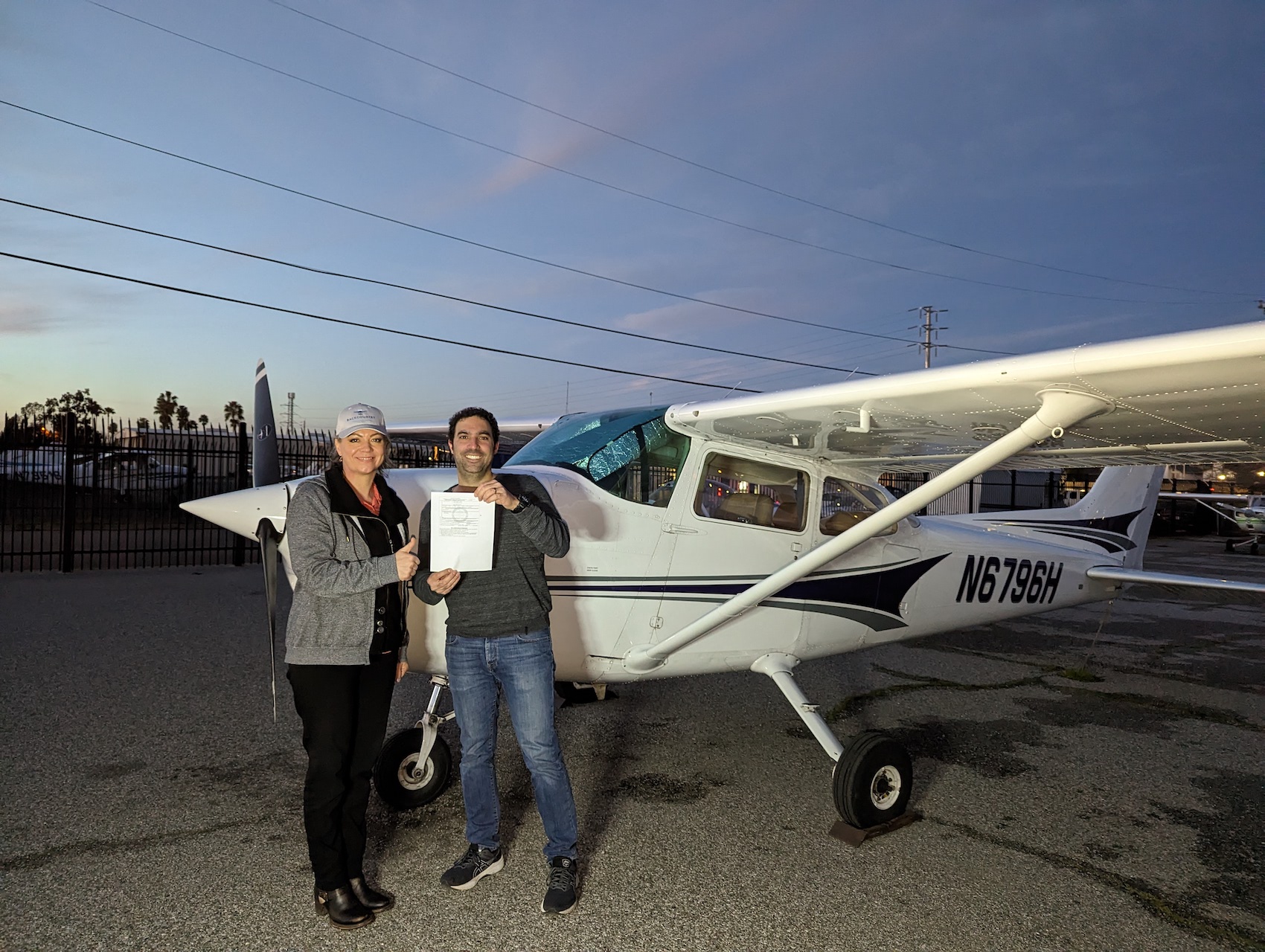 Private Pilot Checkride: February 6, 2023 Instructor: Nir Chen Congrats to Nizar on his first-time checkride pass with Alaska DPE...
Read More
From beginners to advanced, we train it all!
Our tailwheel fleet includes Citabria, Decathlon, Maule and Stinson for flight training and rental. We make the tailwheel transition easy and affordable for you, while making you proficient to fly many taildraggers. We also have a selection of tricycle-gear airplanes such as Evektor SportStar light sport (LSA), Cessna 172, 172RG, Piper Arrow and Twin Comanche for all pilot licenses and ratings. The newest certification for commercial drone operation can also be completed with one of our instructors. Whether you've always dreamed of becoming a pilot, have an insane desire to tumble through the air in an aerobatic aircraft or you want to continue to advanced flight training, AeroDynamic Aviation can take you to a whole new level!
See AeroDynamic Aviation® featured as the World's Greatest TV Flight School!
Our California flight school facilities are located at Reid Hillview airport in San Jose (KRHV), Salinas Municipal Airport (KSNS) in Salinas; and at Monterey Regional Airport (KMRY) in Monterey. We offer a full selection of Gift Certificates ranging from first flight experience to aerobatic thrills. Whether birthday, anniversary, wedding proposal or holidays, this is a gift they will never forget.
Where to begin…We offer a full array of flight courses whether you are just beginning your training, coming back to aviation, or pursuing a pilot career. Click here to see a full list of our flight training programs or browse our gift certificates if you're new to flying.
C
ome fly with us in the beautiful San Francisco and Monterey Bay Area of California. Our flight school facilities are located at Reid Hillview airport in San Jose (KRHV), at the south end of San Francisco Bay, Salinas Municipal Airport (KSNS), and Monterey Regional Airport (KMRY). We offer ground and flight training for sport pilot, private pilot, commercial pilot, instrument rating, multi-engine rating, airline transport pilot (ATP), certificated flight instructor (CFI), tailwheel, aerobatics, upset recovery, spin recovery and mountain flying.
Have a question? Send us an email!
To schedule a flight or for immediate assistance, please call our office:
San Jose (408) 320-9614 or Monterey/Salinas (831) 373-8320