Flight TrainingCommercial Pilot's License
With the current pilot shortage, commercial pilots are in a position to move quickly to any flying job they desire. Options include flight instructor, tour pilot, skydive pilot, cargo pilot, corporate pilot, airline pilot, and many more. To be eligible for your commercial certificate you'll need to build some flight time (250 hours minimum by the time you go for the checkride), but to earn the rating itself you need to spend only a fraction of the effort and cost necessary for a private certificate. It's possible to earn your commercial in 15 to 20 hours of flight training.


Prices and rates are subject to change without notice. All training and rentals are subject to the terms and conditions in the Renter's Agreement. Minimum 24 hours' notice required for cancellation or you may be charged for the rental time.

C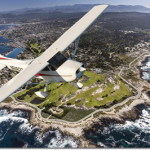 ome fly with us in the beautiful San Francisco and Monterey Bay Areas of California. Our flight school facilities are located at Reid Hillview airport in San Jose (KRHV), at the south end of San Francisco Bay, and Monterey Regional Airport (KMRY). We offer ground and flight training for sport pilot, private pilot, instrument rating, commercial pilot, multi-engine, ATP, CFI, tailwheel, aerobatics, and mountain flying.
Ready to schedule a flight? Have a question? Give us a call!
San Jose (408) 320-9614
Monterey (831) 373-8320
You can also reach us via email with our Contact Form