Flight TrainingInstrument Rating
Don't let the fog or clouds stop you from flying! Learn to fly the airplane, and find your destination runway, with no visibility outside. We offer instrument flight training and can train you in our 3-screen Redbird simulator, Cessna 172s & 172RGs, Piper Twin Comanche, and we can train you in your own airplane.
We can train you in the latest GPS techniques too – we have airplanes equipped with the Garmin 430/530 and GTN650 GPS navigators. Our Redbird simulator counts toward 10 of the required 40 hours for an instrument rating. It is equipped with analog gauges and Garmin 530 WAAS.
The San Francisco and Monterey Bay areas are very well suited to instrument flight training. We frequently have low-lying cloud and fog layers nearby to train in, yet nearby airports are VFR almost all the time.
Prices and rates are subject to change without notice. All training and rentals are subject to the terms and conditions in the Renter's Agreement. Minimum 24 hours' notice required for cancellation or you may be charged for the rental time.

C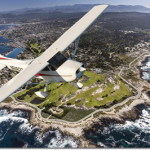 ome fly with us in the beautiful San Francisco and Monterey Bay Areas of California. Our flight school facilities are located at Reid Hillview airport in San Jose (KRHV), at the south end of San Francisco Bay, and Monterey Regional Airport (KMRY). We offer ground and flight training for sport pilot, private pilot, instrument rating, commercial pilot, multi-engine, ATP, CFI, tailwheel, aerobatics, and mountain flying.
Ready to schedule a flight? Have a question? Give us a call!
San Jose (408) 320-9614
Monterey (831) 373-8320
You can also reach us via email with our Contact Form