Sport/Private Pilot Ground SchoolSan Jose at Reid-Hillview
Click on the "Buy Now" button below, call the office at (408) 320-9614 to enroll, or email info@aerodynamicaviation.com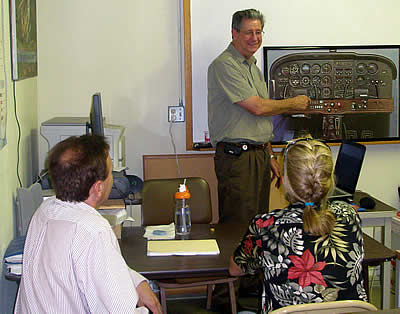 2019 Schedule


Class Schedule
Week 1

Week 2

Week 3

Week 4

Week 5

Week 6

Week 7

Week 8

Week 9

Week 10

Week 11

Week 12

Week 13

Week 14

Week 15

Introduction, Aircraft Structure, Principles of Flight

Aerodynamic of Flight & Flight Controls

Aircraft Systems

Flight Instruments

Flight Manuals, Documents, Weight and Balance

Aircraft Performance

Airport Operations

Airspace, Air Traffic Control, Aeromedical Factors

Federal Aviation Rules and regulations – FAR Part 61

Federal Aviation Rules and regulations – FAR Part 91

Weather Theory

Weather Services, Charts and Briefings

Navigation & AIM

Radio Navigation, Aeronatical Decision Making (ADM)

Cross-Country Flight Planning, Review, & Final Exam
You can join the class at any point and continue through the next session, or simply drop in for sessions that interest you.
The ground school is a guided tour of the information you will need to fly safely and to pass the knowledge test. Some homework, in the form of extra reading is required. Required materials and books will be available for purchase.
Single sessions, at a cost of $30 per session. Licensed pilots who want a refresher are welcome. You can join the class at any point, and continue through the next session.
Call the office on (408) 320 9614 to enroll, or email info@aerodynamicaviation.com
Ground School Classes, San Jose: There are three sessions per year, and each session lasts for 15 weeks with one week off between sessions.  There are 3-hour Wednesday night classes starting at 6:00 pm and finishing at 9:00 pm, and 3-hour Saturday morning classes starting at 9:00 am and finishing at 12:00pm, for each session.
About the Instructor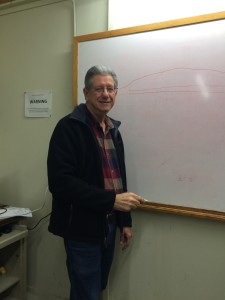 Larry Reed, CFI, CFII, MEI, AGI, IGI, BS in Professional Aeronautics, Embry Riddle
Larry had his first airplane ride at six, and he has loved airplanes and flying since including building and flying model airplanes, being an aircrew man in the US Navy, flying in radar-equipped Super Constellations (EC121K) and P3A Orion antisubmarine aircraft.  In parallel with Larry's 50 year career in Electronics and Aerospace he obtained his Pilot and Instructor, certificates and ratings beginning in 1964 as a student pilot, at the Navy Memphis flying club, soloed at Reid Hillview Airport in 1966, became a Certified Flight Instructor in 1977, also at Reid Hillview.  Learned aerobatics in 1978, taught in taildraggers and tricycle-geared airplanes at Amelia Reid Aviation and other flight schools since 1977.  Larry began teaching ground school to his flight students in his garage thirty-five years ago.  Twenty five years ago, started a ground school for EAA Chapter 62 and has been teaching the Private Pilot Ground School almost continuously, to the present.  He has been teaching at Amelia Reid & AeroDynamic Aviation for about twelve years. Larry teaches quality aviation classes that prepare students to safely pilot an airplane, and to pass the knowledge exam.  He has taught hundreds of students in the past thirty five years.
Ready to schedule a flight? Have a question? Give us a call!
San Jose (408) 320-9614
Monterey/Salinas (831) 373-8320
You can also reach us via email with our Contact Form