Directions
Reid Hillview, Salinas, and Monterey Airports
We can meet you at any of the three airports at any time by prior appointment. Flying takes place every day at all hours. Please contact the office prior if you need before or after hours access.
At Reid-Hillview Airport (KRHV) we are located on the north east side of the field close to Capitol Expressway. The office is attended 9 am to 5 pm every day.
At Salinas Airport (KSNS) we are in the terminal building next to the Landing Zone restaurant. The office is not attended.
At Monterey Airport (KMRY) we are on the Southeast side, general aviation turnoff just before the airport parking lot. The office is attended 9 am to 5 pm every day. Visitors must use "Call" button at the entrance gate and our office will buzz you in.
Reid-Hillview Airport
2650 Robert Fowler Way
San Jose, CA 95148
Phone: (408) 320-9614
Salinas Municipal Airport
70 Mortensen Avenue
Salinas, CA 93905
Phone: (831) 373-8320
Monterey Peninsula Airport
130 Olmsted Way, Suite 130
Monterey, CA 93940
Phone: (831) 373-8320
C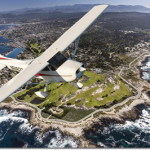 ome fly with us in the beautiful San Francisco and Monterey Bay Areas of California. Our flight school facilities are located at Reid Hillview airport in San Jose (KRHV), at the south end of San Francisco Bay, Salinas Municipal Airport (KSNS), and Monterey Regional Airport (KMRY). We offer ground and flight training for sport pilot, private pilot, instrument rating, commercial pilot, multi-engine, ATP, CFI, tailwheel, aerobatics, and mountain flying.
Questions? Send us an email!
You can reach us via email with our Contact Form