Nov 18 2020
0 comments

Date: November 10, 2020
Certification: Multi-engine Instructor (MEI)
Instructor: Lynzie Hudson
Aircraft: Twin Comanche N40DA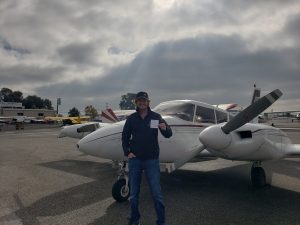 Happy Birthday and a big congrats on passing your MEI checkride! Mitchell teaches with AeroDynamic and just finished the hard work of adding multi-engine to his instructor credentials. We are very proud of all our CFIs' effort to continue learning and growing as pilots and teachers. Well done, Mitch!!
Nov 10 2020
0 comments

Date: October 31, 2020
Instructors: Jen Watson & Ivan Stanojevic
Aircraft: Citabria N2508Z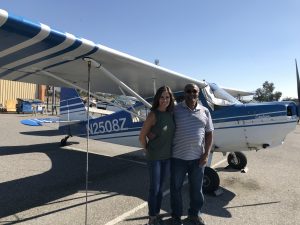 The challenge of learning in a conventional airplane (aka tailwheel or taildragger) is worth the time and dedication when you turn out pilots as accomplished as Heather. Despite various setbacks throughout training (a broken wrist from playing sports, forest fires, weather challenges, a pandemic, etc.), she persevered to become a lady taildragger pilot on her first checkride attempt. We love having Heather as part of our family and hope she enjoys many years flying around and exploring California. CONGRATS!!!
Nov 06 2020
0 comments

Date: October 29, 2020
Instructor: Stephanie Procive
Aircraft: Cessna N968RC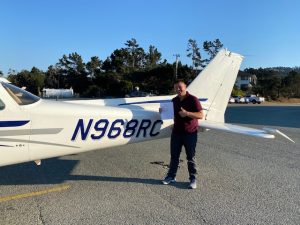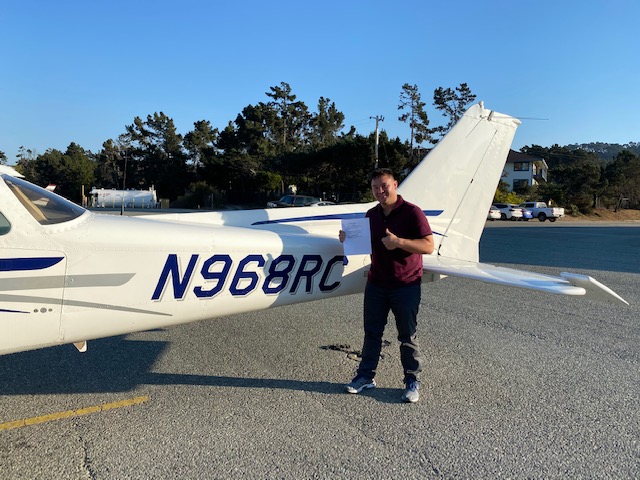 "Flying has always been a dream of mine but I never had the time to pursue it.  During the COVID shutdown,  the opportunity presented itself and with everything closed I now had the time to achieve my dream. 
The staff and instructors at Aerodynamic Aviation were ALL amazing!  I can't speak highly enough about them.  Their knowledge, dedication, and passion for flying and teaching are second to none.  

Thank you for helping make my dream become a reality." ~ Scott

Nov 05 2020
0 comments

Solo Date: October 20, 2020
Aircraft: Cessna N915L
Instructor: Stephanie Procive
Location: Monterey, CA (KMRY)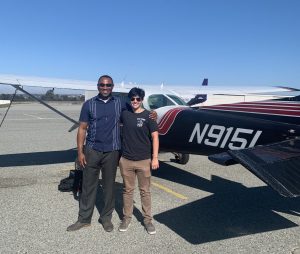 Oct 30 2020
0 comments

Solo Date: September 9, 2020
Aircraft: Cessna N9027H
Instructor: Mitchell Templeton
Location: San Jose, CA (KRHV)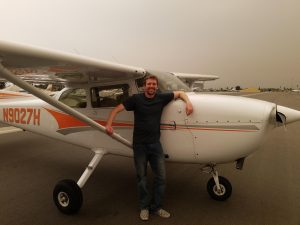 Sep 12 2020
0 comments

Date: August 31, 2020
Instructor: Mitchell Templeton
Aircraft: Cessna N9027H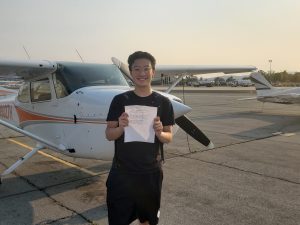 "I've been fascinated about aviation for my entire life. When I was little, I used to beg my parents to take me to airports to watch the big airliners arrive and depart to places around the globe. When I grew up, I was different from my peers in that I knew exactly what I wanted to be: a professional pilot. When I started college at The Ohio State University, I got to work on my PPL but had to put my plans on hold for the COVID-19 pandemic. I elected to finish my license at Aerodynamic Aviation back home and finally earned my PPL. My future plans are to continue to earn my ratings and pursue my dream of becoming a career pilot, either in the airline, corporate, or cargo fields." ~ Matthew
Sep 03 2020
0 comments

Date: August 17, 2020
Certification: Private Pilot
Instructor: Ivan Stanojevic
Aircraft: Citabria N9091L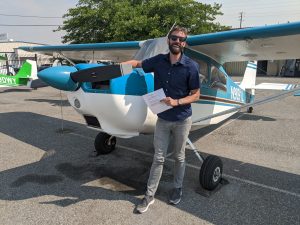 "Thank you to all the folks at Aerodynamic Aviation for making my journey to become a private pilot so enjoyable. Training with Ivan in the Citabrias has been an awesome experience. Ivan has transformed me into a confident, safe, and skilled tailwheel pilot. I also want to give special shoutouts to Kat and Matt; the casual conversations in the office have taught me so much about aviation. I'm looking forward to continuing my training here and eventually getting my instrument rating later this year." ~ Brian
Aug 29 2020
0 comments

Date: June 22, 2020
Certification: Private Pilot
Instructor: Scott Holland
Aircraft: Citabria N2508Z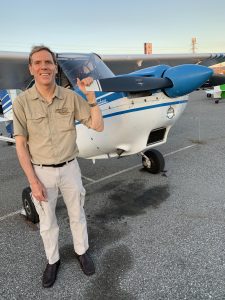 "I dedicate this milestone to my dad who learned to fly Champs at a young age."
Aug 22 2020
0 comments

Date: August 2, 2020
Certification: Private Pilot
Instructor: Kat Hanlon
Aircraft: Cessna N54102



"Thank you Aerodynamic Aviation for the great training over the last two years. You have helped me become a safe and skilled pilot. I look forward to new flying adventures with family and friends." ~ Joe
Aug 22 2020
0 comments

Date: August 7, 2020
Certification: Certificated Flight Instructor – Instrument (CFII)
Instructor: Jen Watson
Aircraft: Cessna N54102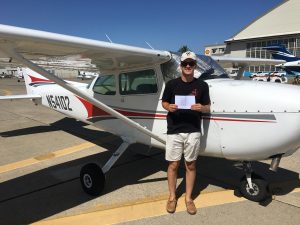 Our instructors are on a roll! Congrats to another AeroDynamic CFI, Josh, for studying hard to add an instrument rating to his Flight Instructor certification. We are so proud of all the hard work our instructors are putting in to make themselves even better teachers. Nice job!