Flight Training FinancingLoans, Grants & Scholarships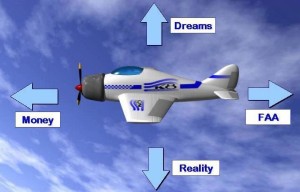 We understand that learning to fly is expensive. If you wish to train faster than your regular cash flow allows, financing may be an option for you. While you will be paying finance charges, you may take fewer flights if you can fly more often without large gaps between lessons.
We have been providing the finest in flight training since 1960. We pride ourselves in teaching students the art of flying safely and proficiently. We offer flight training for Sport Pilot, Private Pilot, Tailwheel, Aerobatics, Instrument, Commercial, CFI, ATP, Multi, and provide ground training for all. We can also accommodate insurance check-outs for most makes and models. Contact us for details.
Aircraft Owners and Pilot's Association (AOPA)
AOPA provides a wealth of information and resources for pilots, and now includes pilot financing. There flight training loans are quick, easy, and flexible. Application is online You can find out all about their loan options here.
AOPA also promotes aviation through scholarships. You can find out all about their scholarships here.
Pilot Finance, Inc.
Pilot Finance provides loans for part time flight training. They focus on the people who fly a few times a week and aim to fly recreationally. They put up an agreed amount of funding, you fly and the flight school sends invoices to Pilot Finance. You pay back interest and capital like any other loan.
Pilot Finance, Inc.
(800) 667-0201
info@pilotfinance.com
http://www.pilotfinance.com
Lending Tree

LendingTree offers people considering flight school the possibility to receive personal loan offers from multiple different lenders with a single form. The interest rates on these loans are almost always lower than credit cards and most people receive the money directly in their bank accounts within a matter of days. Even if consumers don't choose one of the offered loans, LendingTree's service is completely free and will help them comparison shop with other financing services.
Earnest
Earnest allows individuals who are considering flight school the ability to easily receive a personal loan offer with no collateral. The interest rates on these loans are as low as 5.25% APR, and you can choose your monthly payment. You can also change your payment at anytime, and can make extra or early payments without any fees. Click here for more info.
Experimental Aviation Association
EAA's scholarship program encourages, recognizes and supports excellence among those studying the technologies and the skills of aviation. These annual scholarships help outstanding students who demonstrate financial need to accomplish their goals. You can find more information on scholarships here.
The Ninety-Nines
The Ninety-Nines have promoted women pilots since 1929. Each year, they host the Amelia Earhart Memorial Scholarship along with chapter scholarships. You can find more information on scholarships here.
Women In Aviation
WAI is an organization dedicated to advancing both women and men in aviation. Through networking, conferences, and scholarships, WAI encourages young people to pursue and prosper in aviation. Their website includes numerous scholarship opportunities from various companies for several areas in the aviation industry. You can find flight training scholarships among others here.
Utah Valley University
Utah Valley University's degree programs allow you to apply student loans and financial aid directly to your flight training costs. The ground portion of your flight training and general education classes can be completed online for college credits with access to classes 24 hours a day.  Students can fly with AeroDynamic Aviation while completing their online degree at UVU.
UVU's Aviation Financial Aid Office understands the unique needs of aviation students and is available to assist students at 1-877-336-8872 or aviationfinaid@uvu.edu. We strongly recommend contacting them prior to beginning your financial aid application process. To apply for financial aid: www.uvu.edu/financialaid. For specific tuition information and any other questions please call the Aviation Advisement Center Mon – Fri, 10am – 6pm Mountain Time 1-888-901-7192 or email: aviation@uvu.edu
Additional Scholarship Opportunities
Civil Air Patrol