Flight Training for Foreign Students (Non-US Citizens)
If you are a citizen of a country other than the USA, you can still learn to fly here.
Visas: Note that you may need an appropriate type of visa to enter the US. Our understanding is that if you plan to enter the US primarily for flight training, in a full time course of over 18 hrs per week, you will need a student (M-1) visa. We are currently a part 61 flight school, so we cannot issue this type of visa.
On the other hand, if your visit is mainly for tourism or business, and you'd like to take flight lessons part time (less than 18hrs per week), then you may not need a student visa and you may be able to enter with a tourist or business visa or on the visa waiver program. See the US Immigration web site and do check with your nearest US Consulate.
Trial lessons / Orientation and demo flights: If you just want to take an orientation flight or a trial lesson to see if you like it, no problem, you can just come and do it. Call us on (408) 320-9614 to book your flight.
If you have a pilot certificate from an ICAO country, including JAA: You can get a US Private Pilot Certificate based on your ICAO certificate. You will need to apply three months in advance. The Airmen Certification Branch, AFS-760 must have the Civil Aviation Authority (CAA) verify the validity and currency of the foreign license and medical certificate or endorsement before you apply for an FAA certificate or authorization.  The processing of the Verification of Authenticity of Foreign License, Rating, and Medical Certification form takes approximately 45 to 90 days to complete.  NOTE: Do not schedule any travel and/or checkrides, etc until a valid Verification Letter has been obtained from AFS-760. For details see the FAA Web Page for converting a pilot license. After you receive your approval letter, make an appointment with the local Flight Safety District Office in San Jose.
If you already have a US pilot certificate: You can take lessons to improve your flying, or to add a tailwheel endorsement, or acrobatics. However if you wish to add an Instrument Rating or a Multi Engine rating then you will need to go through the TSA process. See below.
Non-US Citizens with no pilot certificate, or those wishing to add an instrument rating or multi-engine rating: You will need to go through the TSA Alien Flight Student Program background check. The process is fairly simple. Here is what you need to do:
To take regular flight training, foreign students must register with the Transportation Security Agency to be able to learn to fly with a US Flight School.
Prices and rates are subject to change without notice. All training and rentals are subject to the terms and conditions in the Renter's Agreement. Minimum 24 hours' notice required for cancellation or you may be charged for the rental time.

C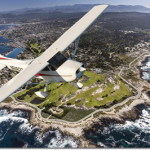 ome fly with us in the beautiful San Francisco and Monterey Bay Areas of California. Our flight school facilities are located at Reid Hillview airport in San Jose (KRHV), at the south end of San Francisco Bay, Salinas Municipal Airport (KSNS), and Monterey Regional Airport (KMRY). We offer ground and flight training for sport pilot, private pilot, instrument rating, commercial pilot, multi-engine, ATP, CFI, tailwheel, aerobatics, and mountain flying.
Ready to schedule a flight? Have a question? Give us a call!
San Jose (408) 320-9614
Monterey/Salinas (831) 373-8320
You can also reach us via email with our Contact Form