Ongoing Flight Training
Flight Review, Instrument Proficiency Check, and more
We can conduct any of the flight training in one of our airplanes, or we can use yours, if it is appropriately certified. (see Training in Your Own Aircraft). Our instructors have a wide range of experience and we probably have at least one that has time in your particular type of airplane. If not we should be able to find someone that can help you.
Some of our instructors have special expertise in Beech single- and multi-engine, including Bonanza, Debonair, Baron, Travelair, and other models, and have FAA exemptions from the rule requiring dual controls so we can legally work with you in single yoke Beechcraft.
Other high performance airplanes we have significant expertise in are:
The Cessna 182, 206, and 210 (later on the Centurion) from the earliest to the latest models, turbocharged or normally aspirated;
The high-tech Cirrus SR20 & SR22
The top-quality Beechcraft Bonanza and Baron
The venerable Piper Arrow, Comanche and Twin Comanche
Various Mooney models
Many experimental types
If we don't mention it on this page, the chances are we have at least one instructor with experience in the airplane. Try us and we will do our best to help. Where better than in the beautiful San Francisco Bay Area!
Flight Review
The FAA requires as a minimum that pilots undertake a Flight Review every two years – Biennial Flight Review (or BFR for short). The Flight Review consists of at least one hour of ground instruction, typically covering changes in regulations, review of airspace rules, and the specific airplane systems, operation, performance and weight and balance. The flight portion will consist of at least some takeoff and landing practice, simulated emergencies and malfunctions including engine out simulation and landing, and such other maneuvers as you and your instructor decide are appropriate.
Click visit our "Documents" webpage to complete our AeroDynamic Flight Review Quiz and view other resources to prepare for your Flight Review.

Click here to see FAA guidance on the Flight Review
Click here to download AOPA Guidance to the Flight Review
A Flight Review can also include some acrobatic or unusual attitude training.
FAA Pilot Proficiency Program (Wings Program)
The FAA encourages recurrent training and even allows a pilot to skip the BFR if they have received at least three hours of flight training and attended an FAA safety seminar. The three hours need to cover one hour of instrument flight, one hour of takeoffs and landings and one hour of maneuvers. Completion of a phase of the Wings program counts the same as a BFR. Of course, we can include our Mountain Checkout, or introduction to Aerobatics, or any training module, into the Wings training.
Instrument Proficiency Check (IPC)
The FAA requires a Proficiency Check if a pilot has not flown enough instrument approaches in the previous twelve calendar months. Many insurance companies may also require an IPC on a regular basis. We can work with you to complete your IPC or to keep you current. The variety of microclimates in the San Francisco Bay area often gives us opportunities to fly in fog and make instrument approaches to low minimums even in the height of summer. Requirements for the IPC are listed in the Airman Certification Standards on page A-11 (click here for the current ACS).
Click here to see FAA guidance and requirements for the IPC
Mountain Flying
With the highest mountains in the continental US practically on our doorstep, we offer a day long mountain flying course, and we can tailor multi day mountain flying excursions for you after completion of the training. See our Mountain Flying Page for more details
Aerobatic Courses
Using our aerobatic category Citabrias, we offer precision aerobatics training, ranging from a one hour introductory flight to a complete aerobatic course of 10 or more hours. See our Aerobatics Page for more details.
Upsets, Unusual Attitudes, Spin Training, Confidence building
Many pilots have enjoyed our unusual attitude, spin and upset training courses, designed to enable pilots to react appropriately in unusual situations – for example a wake turbulence encounter. We will tailor the training to your requirements. It may be a one-hour flight to experience spins, or it may be a multi-hour course to work on a wide variety of unusual attitudes.
Insurance Company Checkouts and Recurrent Training
Many insurance companies require an initial training period and recurrent training on a regular basis. We have worked with insurance companies to put together initial and recurrent training modules and may be able to help you get into an airplane that might otherwise be hard to get insurance for.
Prices and rates are subject to change without notice. All training and rentals are subject to the terms and conditions in the Renter's Agreement. Minimum 24 hours' notice required for cancellation or you may be charged for the rental time.

C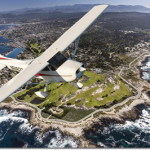 ome fly with us in the beautiful San Francisco and Monterey Bay Areas of California. Our flight school facilities are located at Reid Hillview airport in San Jose (KRHV), at the south end of San Francisco Bay, Salinas Municipal Airport (KSNS), and Monterey Regional Airport (KMRY). We offer ground and flight training for sport pilot, private pilot, instrument rating, commercial pilot, multi-engine, ATP, CFI, tailwheel, aerobatics, and mountain flying.
Ready to schedule a flight? Have a question? Give us a call!
San Jose (408) 320-9614
Monterey/Salinas (831) 373-8320
You can also reach us via email with our Contact Form