In Loving Memory, Jason Brown
December 22, 1984 to April 11, 2021
Always in our hearts.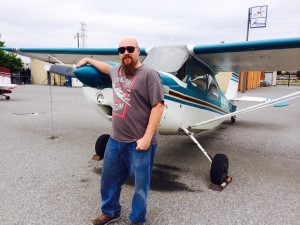 We have created a non-profit called Jason Brown Memorial Fund to honor Jason's legacy. All proceeds go toward an annual scholarship for tailwheel training. For full details and to apply for the $2,000 Jason Brown Tailwheel Scholarship, please click here.
We have a GoFundMe page or you can donate at our office if you would like to contribute to the Jason Brown Memorial Fund.
Jason's Instructor Bench arrived and is located outside under our shade tree at Reid-Hillview.
Thank you to everyone who participated in Jason's 20-aircraft flight tribute on May 2. We are so honored to have been part of his last flight and to spread his ashes in Monterey Bay.
Here is a wonderful video capturing many aspects of who Jason was. Thanks to his student Ryann for sharing it!
My qualifications: Assistant Chief Instructor, CFI and Amazing Human. We miss you so much.
What I can teach: Stage Checks, Sport, Private, Commercial, Tailwheel, Intro to Aerobatics
Aircraft I teach in:
Tailwheel: Citabria 7ECA, 7KCAB, Stinson
Evektor Sportstar
Cessna 172. 172RG, 182
Piper Arrow, Comanche, Cherokee (all models)
Beechcraft Bonanza
Location: San Jose (KRHV)
History: Jason says: "My grandfather had me flying in the right seat of a Bonanza since before I could see over the panel. On my 16th birthday I got my student pilot certificate and on my 17th birthday I became a certified pilot. I really enjoy sharing my passion for aviation with others and helping them reach their aviation goals. I love to get up in the air, whether its for a long cross country flight or a short hop to grab a $100 burger."
"Tiger, flight of one"
Tiger, flight of one, cleared for engine start.
You have departed us, but have left in your wake.
Countless flourishing pilots, all seen under your wing.
Your memory will live on, but our empty hearts ache.
Tiger, flight of one, cleared for taxi.
Your jolly demeanor, your hearty laugh.
Captain of all shenanigans and good times.
We shall carry on your legacy on your behalf.
Tiger, flight of one, cleared for takeoff.
As you climb skyward, into the great blue yonder
Finally free of mortal limits and worries
We hope for your safe journey and can only ponder.
Tiger, flight of one, cleared for westward departure.
Winds calm, the skies are smooth.
Til we meet again, my friend
Frequency change approved.
~ Poem by one of Jason's tailwheel students, Edgar Xiong