Jennifer Watson
My qualifications: Chief Instructor, NAFI Master Flight Instructor, FAA Gold Seal Instructor, ATP, CFI, CFII, MEI, & Aviation Expert Witness

What I can teach: Stage Checks, Single- and Multi-Engine, Sport, Private, Instrument, Commercial, ATP, CFI, CFII, MEI, Tailwheel, Aerobatics, Upset Recovery, Spin Training, and Mountain Flying.

Aircraft I teach in: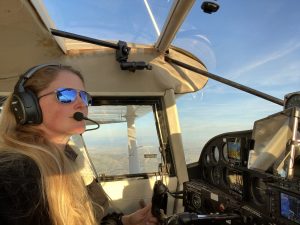 Tailwheel: Citabria 7ECA/7KCAB/7GCAA, Decathlon, Husky, Champ, Cub, Swift, Maule, Stinson;
Cessna 150, 152, 172, 172RG, 182, 206, 210;
Piper Warrior, Archer, Arrow, Saratoga, Cherokee 6, Twin Comanche;
Beechcraft Bonanza (including turbo), Duchess, Baron;
Cirrus SR20, SR22, SR22T
and many more.
Location: San Jose, Sacramento, and Monterey.
Call the office or Jen to schedule with her.
History: Jen's experience at the airlines, corporate and general aviation flying gives her an unfair advantage when teaching folks to fly. She has experience in all sort of planes from small trainers to King Air and jets, including the Citation and CRJ. She has flight time and teaching experience in most small aircraft and her tailwheel time includes Citabria, Decathlon, Pitts, Skybolt, Stinson, Husky, Swift, Maule, Great Lakes, Super Cub, Sport Cub, J3 Cub, Sonex and Extra 300L. Jen has a degree in Aviation Science and flies in aerobatic competitions and back-country for fun. She specializes in advanced training (tailwheel, aerobatics, multi-engine, ATP, upset recovery) and stage checks, so student availability can be limited. She attended Cirrus training in Duluth to become a Cirrus Standardized Instructor Pilot (CSIP). Jen also serves as an expert witness in aviation accident cases. In 2020 she earned "Master CFI" accreditation with the National Association of Flight Instructors and FAA Gold Seal. Her goal is to always be a student of aviation – at the moment she is adding a glider rating to her commercial pilot certificate and later to her instructor qualifications. Her daily commute to work is in her family station wagon, a 1980 Maule M5-180C.
Wall of Fame
KSBW's Michelle Imperato discovers aerobatics with Jen