Jennifer Watson
My qualifications: Chief Instructor, NAFI Master Flight Instructor, FAA Gold Seal Instructor, ATP, CFI, CFII, MEI, Qualified Expert Witness, FAA Safety Representative, IAC Aerobatic Judge and competition pilot, and Reno Air Race pilot.

What I can teach: Stage Checks, Single- and Multi-Engine, Sport, Private, Instrument, Commercial, ATP, CFI, CFII, MEI, Tailwheel, Aerobatics, Upset Recovery, Spin Training, and Mountain Flying.

Aircraft I teach in: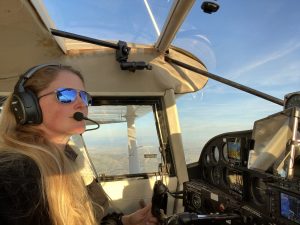 Tailwheel: Citabria 7ECA/7KCAB/7GCAA, Decathlon, Husky, Champ, Cub, Swift, Maule, Stinson;
Cessna 150, 152, 172, 172RG, 182, 206, 210;
Piper Warrior, Archer, Arrow, Saratoga, Cherokee 6, Twin Comanche;
Beechcraft Bonanza, Duchess, Baron;
Cirrus SR20, SR22, SR22T
and many more.
Location: San Jose, Sacramento, and Monterey.
Call the office or Jen to schedule with her.
History: Jen began flying in 2001 at Chandler Air Service in Phoenix, AZ. She earned her Private Pilot certificate there, then transitioned to a Part 141, airline-based flight school from 2002-2003. After completing all her flight training and earning a degree in Aviation Science, she starting flying for Mesa Air at 23 years old. Her experience at the airlines, and later corporate and general aviation flying, gives Jen an unfair advantage when teaching folks to fly. She has experience in a wide variety of planes from small trainers to King Air and jets, including the Citation and CRJ.
Jen has flight time and teaching experience in most small aircraft, and her tailwheel time includes Citabria, Decathlon, Laser, Pitts, Skybolt, Stinson, Husky, Swift, Maule, Great Lakes, Super Cub, Sport Cub, J3 Cub, Sonex and Extra 300L. She flies in aerobatic competitions and back-country for fun. She specializes in advanced training (tailwheel, aerobatics, multi-engine, ATP, upset recovery), instructor training and stage checks, so student availability can be limited. Jen also serves as a qualified expert witness in aviation accident cases and writes columns and articles for NAFI magazine.
Jen's goal is to always be a student of aviation. In 2020 she earned NAFI (National Association of Flight Instructors) "Master Flight Instructor" accreditation and FAA Gold Seal. She became a two-time NAFI Master CFI in 2022, then in 2023 she became a certified IAC Aerobatic Judge and Reno Air Race pilot. Her daily commute to work is in her family station wagon, a 1980 Maule M5-180C, from a private airstrip near Sacramento. Jen began teaching at our school in 2011. She and her husband Josh, an IA A&P who runs the maintenance side of the flight school, have owned AeroDynamic Aviation since 2014.
Wall of Fame
KSBW's Michelle Imperato discovers aerobatics with Jen