Thao Do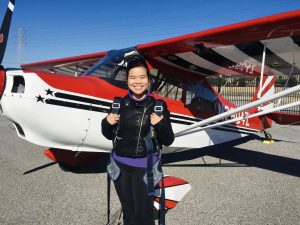 My qualifications: CFI, CFII, MEI, AGI, IGI
What I can teach: Single- and Multi-Engine, Sport, Private, Instrument, Commercial, and Mountain Flying
Aircraft I teach in: Cessna 172 and 172RG
Location: San Jose (KRHV)
History: Dr. Thao fell in love with aviation after her first aerobatic flight with Jen, who showed her how to precisely control an airplane and "feel" the aerodynamic forces by flying aerobatic maneuvers that combine inverted flights, loops, rolls, and spins while experiencing the fun sensations of -1G to +4G.
When she flies, she feels a sense of freedom, serenity, and awe for the beauty on Earth. She loves watching the splashes of rose and gold sunlight shine upon the rolling emerald hills and shimmering turquoise waters below. She believes that great aviators embrace both the artful romance of flying along with the disciplined techniques of airmanship.
As a flight instructor, she personalizes her teachings to each individual student through her experiences in mechanical engineering, biomedical sciences, and education.
She is 100% safety-focused and trains her students to be knowledgeable, skillful, and proficient aviators. She creates fun and positive learning experiences that inspire her students to feel enthusiastic about aviation and eager to learn more because flying makes them happy!
As the famous quote says, "Once you have tasted flight, you will forever walk the earth with your eyes turned skyward. For there you have been, and there you will always long to return."