Instrument Rating
posts displayed by tag
Apr 19 2011
We are installing the new Garmin GTN 650 touch screen WAAS IFR GPS in Cessna 485, and we plan to install them in our other GPS challenged Cessnas over time. The first unit has arrived, we re just waiting for the CDI display and the shop slot. Hopefully 98485 will be done before the start of May.
What is the GTN 650?
It is Garmin's replacement for the GNS430W. No more twiddling knobs, everything is accessed from the touch screen! Full WAAS capability including LPV and GPS approaches as well as all the usual ILS/VOR and communications capabilities. So instrument students and instrument rated pilots will not be limited to airports that have an ILS or VOR approach, but virtually any local airport will be open to them.
For example, Salinas has a GPS approach to runway 13 with minimums of 455′ agl and an LPV approach to 31 with a DA of  200′ agl, Hollister has an LPV approach with minimums of just 323′ agl,  Reid Hillview LPV 31R minimums are only 379′ AGL)
Of course, VFR pilots can use it too.
There will be a learning curve, so I suggest you start preparing now:
Here's a link to the Garmin manuals download page.
Here's a link to Garmin's training center videos.
I am looking forward to trying it out!
Feb 23 2011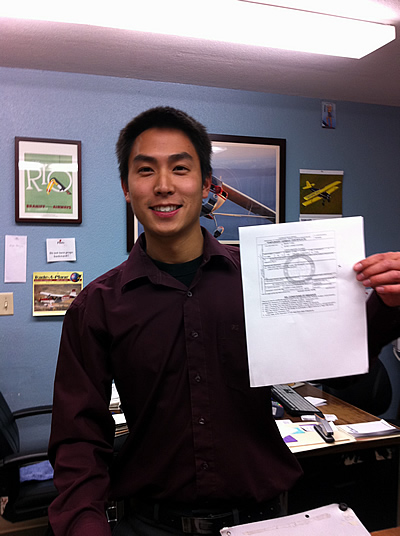 Congratulations to our own Brian Hsu who aced his instrument rating checkride. Brian had previously started on the checkride, and had to turn back because of airplane problems. This time he had to fly to Watsonville to meet with the examiner, Sherry Diamond, but there were no problems and he earned glowing praise from her.
Well done Brian!
Jan 13 2011
The next session of our popular Instrument Rating Ground School starts January 24, 2010 at 6pm. Your instructor will be Erik Schmidt.
To see more information and to enroll Click Here