First Solo Flight – Trevor Orr
Dec 07 2016 · 0 comments · California, First Solo Flight, Flight Training
Solo Date: December 6, 2016
Aircraft: Cessna 172
Instructor: David Waksberg
Location: San Jose, CA (KRHV)

Instructor David solos another one! Congrats to Trevor who completed the legendary 3 solo takeoffs and landings in Cessna N61637 at Reid-Hillview's class D airport.
"I've been in touch with aviation since I was a kid. My dad built a Long EZ and took me flying around in it all through my youth.
After a lengthy repose in flying and flight training due to grad school, financials, and family, and spurred to action by some life-is-short moments, I've re-dedicated myself to returning to the air!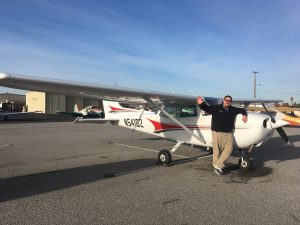 Short term, I'd like to get my private pilot's license so that I can share my love of flying with my family and show them some of the places I used to wander as a kid, meet friendly aviation people, explore new places, and (of course) skip the long traffic commutes to visit family in San Diego during the holidays :)! Long term, I'd like to get an instrument rating and maybe even someday become a CFI!" ~ Trevor