New Commercial Pilot – Nishant Veluthedath
Aug 03 2017 · 0 comments · Checkrides passed, Flight Training
Date: July 28, 2017
Instructor: Ron Vlastelica
Certification: Commercial Pilot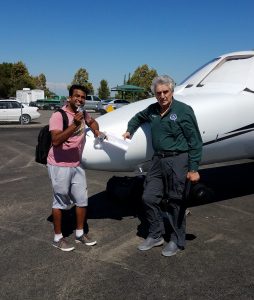 On Friday, Nishant met with Vince Nastro in Tracy. Nishant had previously done both his private and instrument ratings with Vince. The day started out with light winds and cooler temperatures. By the time the flight portion started around 1330, the temperature was 33 degrees C.  Winds were picking but under 10kt.   When they arrived back for their landings and 180 engine-out, the winds were 270 at 18 with gusts to 24 kt.
The last landing was a short downwind, mid-field engine out due to an arriving jet. All in all, the practical test was thorough though fair with much emphasis on rush management throughout all operations.
The pictures are in front of owner's citation II, having just returned from a short vacation in Wyoming.
Nishant is a looking forward to a career in India with the national carrier.  Next and last step is his multi engine rating.  We wish Nishant all the best and congratulations on his most current accomplishment.
Vince gives all his pilots a special coin, which Nishant is showing off.
Examiner: Vice Nastro
Aircraft: Cessna N4604V
Checkride Location:
Tracy, CA (KTCY)