New Commercial Pilot – Saul Meza
Aug 14 2017 · 0 comments · Checkrides passed, Flight Training
Date: August 3, 2017
Instructor: Lynzie Hudson
Certification: Commercial Pilot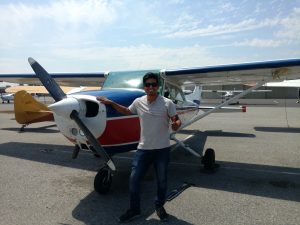 Congratulations to Saul Meza, who passed his Commercial ASEL checkride in Cessna 737ZD.  Saul worked hard for this checkride and deserved his pass! Well done.
Saul is headed to Peru to relax with his girlfriend after spending the last month at Aerodynamic Aviation, San Jose, training for his single engine checkride with CFI Lynzie Hudson.
Saul also earned his High Performance Endorsement last month and is looking for work as a Commercial Pilot. We hope to see Saul again soon for aerobatics and a tailwheel endorsement!
Examiner: Eric Cook
Aircraft: Cessna N737ZD
Checkride Location:
San Jose, CA (KRHV)