New Multi-Engine Pilot – JP O'Dell
Mar 09 2017 · 0 comments · California, Checkrides passed, Flight Training, Multi-engine
Date: March 3, 2017
Instructor: Jen Delp-Mallet
Certification: Multi-Engine Private Pilot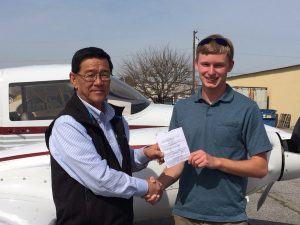 After recently earning his instrument rating with us, Monterey-based pilot JP O'Dell mastered our Twin Comanche in just 12 short hours and passed his checkride on the first attempt! Despite being a full-time student and avid athlete, JP made time to study the Twin Comanche's systems, emergencies, and engine-inop procedures. JP plans to continue on to a career in aviation (hopefully becoming a CFI for us), but for now the lucky 19-year-old has access to fly a Beechcraft Baron for a number of hours while he works toward his Commercial Pilot License.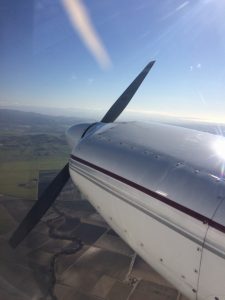 Try to avoid shutting down an engine anytime soon, and we will see you in a few months for that next pilot certification.
Examiner: Yuzo Wakita
Aircraft: Twin Comanche N40DA
Checkride Location: San Jose, CA (KRHV)
Image: Right engine shutdown (feathered) in flight.