New Private Pilot – Jess White
Aug 16 2019 · 0 comments · Checkrides passed, Flight Training
Date: August 5, 2019
Certification: Private Pilot
Instructor: Grant Ozdinski
Aircraft: Cessna N12234
"I became a pilot because I love flying, the freedom it gives you, and the wonderful people you meet along the way.
I strangely love how difficult it was for me to get my license. It pushed me to have serious discipline when things got tough, and push forward even when it felt like I would never cross the finish line. I'm grateful for the process and the determination it took, against all the hiccups and delays. I am a much better person because of it.
My goals with flying are simple. Have as much fun as possible. However, I do plan on purchasing an airplane in the coming months so I can search for the perfect $100 hamburger and fly my family all over the West Coast." ~Jess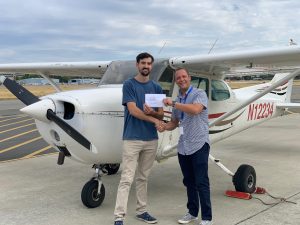 Special thanks to CFI Grant, who worked tirelessly and often late to help Jess with the final prep.