New Private Pilot – Joonwoo Cho
Sep 05 2017 · 0 comments · Checkrides passed, Flight Training
Date: September 3, 2017
Instructor: Ron Vlastelica
Certification: Private Pilot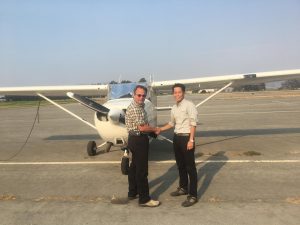 Congrats to Joon and his instructor Ron for a first-time checkride pass! The following is Joon's write up of his experience with us:
"My name is Joonwoo Cho, one of the student pilot flying in Aerodynamic Aviation. I achieved my private pilot license in 3rd of September. Thanks to my instructor Ron and aerodynamic.
The checkride was pretty much expectable. My DPE Eric Cook is a very thorough examiner. He did not assume anything. If you are good, then you are good. If you do something bad, then you are bad. It is that simple. I felt if you pass the checkride with him, you can definitely be proud of yourself as a safe pilot not having any luck to pass the exam. I really think all the FAA DPE should be like him. He also always tried to make the flight circumstance comfortable as possible because he knows all the students are nervous in a checkride. On the checkride, he was sure a 'polite passenger with aeronautical knowledge' I really recommend other students to use him as a well know passenger. Do not think as he is looking for something you do wrong. Use the DPE for safe flight and smooth exam. This will help students a lot.
Instructor Ron was a great instructor. His knowledge and flying skills are good, but the best thing about him is he really take care his student until the last moment. To pass the checkride, the flying is not everything. I think the flying portion is just a basic that you should be able to pass by yourself. The more important thing is how you prepare it. Is your plane suitable? Didn't you miss something like maintenance book? CRM, decision makings, etc. To be a good pilot, flying skill is nothing. Just like driving a car, if you fly more, you will fly better someday. But, the mind for the safe flying is the most important thing. To mention about the way of his teaching, he does not just give you the answer, he gives you time to think and come up with an answer of your own. With this method, you can develop you decision making and this is not something you can develop by just building the flight time. I would also like to give my thanks to aerodynamic aviation. They gave me a pleasant time, and comfortable circumstances for flying. It is really a shame that I cannot stay at US and fly more since I have to go back to my country this month."
Examiner: Eric Cook
Aircraft: Cessna N62244
Checkride Location:
Salinas, CA (KSNS)