New Private Pilot – Matthew Tripp
Jul 23 2018 · 0 comments · Checkrides passed, Flight Training
Date: July 14, 2018
Certification: Private Pilot
Instructor: Adam Sciupac
Aircraft: Cessna N54102
"I started flying when I was 14. My parents got me a discovery flight for my birthday and I was hooked. I started my training in 1989 and logged about 50 hrs and my first solo before life intervened.
28 years later I decided to get back into aviation and found Aerodynamic. The Aerodynamic family and specifically Adam Sciupac, who is an amazing instructor, took me through getting my private pilot license.
From here I hope to continue with my instrument, complex and multi engine ratings to safely explore all aviation has to offer with my friends and family." ~ Matthew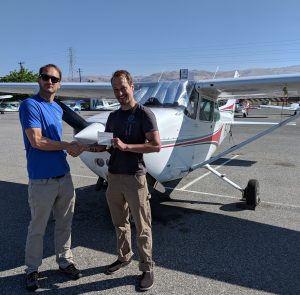 Congrats on a first-time pass of your Private Pilot checkride!