First Solo – Eric Middleton
Feb 13 2016 · 0 comments · First Solo Flight, Flight Training, Tailwheel

Tailwheel private pilot student Eric Middleton soloed Citabria 9091L on January 28th at KRHV (Reid-Hillview airport) while instructor Tom Morley supervised. It's an incredible achievement to take those first solo steps, especially in a taildragger. Well done, Eric and Tom!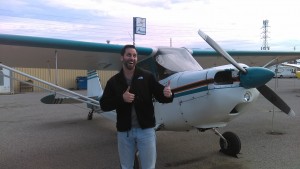 Solo date: January 28, 2016
Tailwheel Instructor: Tom Morley