First Solo – Jess White
Jan 31 2018 · 0 comments · First Solo Flight, Flight Training, Tailwheel
Aircraft: Citabria N9091L
Instructor: Logan Wright
Location: San Jose, CA (KRHV)
Solo Date: December  31, 2017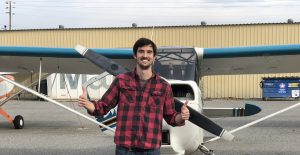 What a way to bring in 2018. Congrats to Jess and Instructor Logan on achieving a first solo in a taildragger!
"I've always loved aviation since I was a child, and always drawn toward the skies. So, I started flying with Logan Wright at Aerodynamic about a year ago, and it's been nothing but a blast. I've loved every minute of it and it feels great to be following my passion.
My plan for after I get my private, is to continue to keep getting more training and experience. I want to go on and get my instrument and commercial, and I would love eventually be able to make flying profitable in different ways.
Flying at Aerodynamic has been wonderful. I've been at other flight schools before, that don't even come close to the quality that you guys have as a school." ~Jess