Two New Commercial Drone Pilots!
Sep 01 2016 · 0 comments · Checkrides passed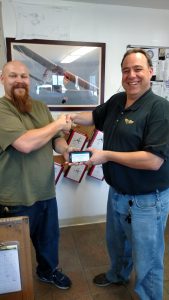 Quick to react to new Drone Pilot licensing policy, two AeroDynamic instructors hopped on IACRA to complete paperwork and earned their Commercial Drone certificates. Congrats to Eric and Jason for all their hard work on this license. We are sure it's the toughest checkride they will ever take 😉
For more information on how to obtain this certificate, please visit the FAA's webpage.