Three teenage pilots take to the sky!
Aug 01 2018 · 0 comments · Airmanship, Awards, Flight Training

One of our recent graduate's mom snapped this photo of three 17-year-old Aerodynamic students (2 newly licensed private pilots and 1 student pilot) departing out of Monterey airport. Adam Shapiro is in the left seat, Katrina Espinoza is in the right (his safety pilot) and Sophia Taylor-Home is in the back seat. If you look closely, you can actually see clear silhouettes of 3 people inside the plane.

Adam earned his Private Pilot with us in Monterey back in December 2017. Katrina earned her license at our Reid-Hillview location in June 2018 thanks to a generous scholarship from AOPA (she won their High School scholarship in 2016 for $5000) and another scholarship from the 99s in 2018. Sophia is a current student pilot working hard to get to solo.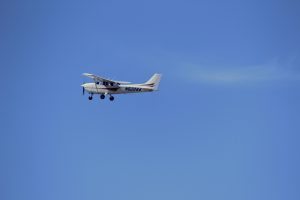 We are so proud of you all! This next generation of pilots work hard for their successes and prove you are never too young or too old to go after your dreams. We wish you all the best in your aviation careers!