Our Chief Instructor, Jen Watson, earns "Master CFI"
Jan 24 2020 · 0 comments · Airmanship, Awards

AeroDynamic's Chief Flight Instructor, Jen Watson, has been awarded Master CFI accreditation by the National Association of Flight Instructors (NAFI). This distinction is held by only an average of 300 flight instructors per year!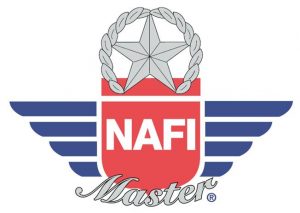 "The NAFI Master Flight Instructor designation is a national accreditation for aviation educators that is based on a system of advanced professional standards and peer review. The designation is granted by NAFI and has two levels: the NAFI Associate Master Flight Instructor, and the NAFI Master Flight Instructor or Master Ground Instructor. These accreditation's publicly recognize aviation educators who demonstrate an ongoing commitment to excellence, professional growth, and service to the aviation community, and they set professional standards to which all professional aviation instructors and educators can aspire.
Both levels of the accreditation process focus primarily on the individual's training activity and evaluation of pilots as well as his or her experience—the foundations of what an instructor is able to pass along to his or her students. They emphasize active instruction and pilot evaluation, not simply taking courses or the tenure of an individual's instructor certificate. They are not honorary awards that recognize long-time service; rather, they are recognition for the individual who continues to practice aviation education at the highest level.
Accreditation requires a rigorous process of on-going professional activity. Like a flight instructor certificate, NAFI Master Instructor accreditation's must be renewed every 24 months to assure a dedication to continuous involvement."